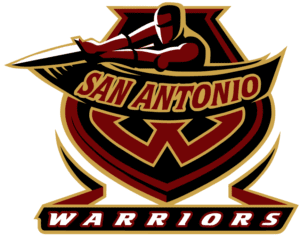 Welcome to the home of the
The San Antonio Warriors were founded in 2004 and are a non-profit 501c3 organization.  Not since the San Antonio Toros in the late 1960s and early 1970s has there been a minor professional football team in San Antonio with the talent, longevity, and winning ways of the San Antonio Warriors.
The San Antonio Warriors have dominated in the leagues they've played in and hold a record of 197 wins and only 53 losses.  They were League Champions in 2004, 2009, and 2011 and held the #1 spot in the SemiPro BCS National Ranking System (est. 2008) for the Winter-Spring 2011 season.
San Antonio Warrior Team Achievements
2022
BSFL Alamo City Division Champions
2021
BSFL Central-Hills Conference Champions
2012
MPFL Capital Division Champions
2011
Semi-Pro BCS Winter-Spring National Champions
MPFL League Champions
MPFL Patriot Conference Champions
MPFL Capital Division Champions
2010
MPFL Southern Conference Champions
MPFL Central Division Champions
2009
Texas State Champions
NMFL League Champions
NMFL Conference Champions
NMFL Division Champions
2008
TUFL Southern Conference Champions
TUFL Central Division Champions
2007
TUFL Central Division Champions
2006
TUFL Central Division Champions
2005
TUFL Southern Conference Champions
TUFL Central Division Champions
2004
Red River Classic National Champions – Joplin, MO
TUFL League Champions
TUFL Souther Conference Champions
TUFL Central Division Champions
David Olvera QB
2021 NAL San Antonio Gunslingers
Joey Fisher WR
2021 NAL San Antonio Gunslingers
Leonard Williams DE
2014 LSFL New Mexico Stars
Dominique Wells WR/DB
2013 LSFL San Angelo Bandits
Jamie Whitworth K
2013 PIFL Alabama Hammers
Mychael Hutchinson DL
2013 LSFL San Angelo Bandits
Rick Ball DB
2013 LSFL San Angelo Bandits
Travis Russell DE
Dale Kindred WR
2012 Cisco Junior College
Dustin Dubose WR
2012 CIFL Evansville Rage
Matt Washington WR
2012 CIFL Evansville Rage
2012 LSFL San Angelo Bandits
Anthony Amoo DL
2011 AFL1 Philadelphia Soul
Tyrell McCrea LB
2011 AFL1 San Jose Sabercats
B.J. Epson RB
2010 Mary Hardin Baylor University
Cheerleader/Dancer Advancements
Cassie Brooks
2018-2019 NFL Atlanta Falcons Cheerleaders
2017-2018 NFL Atlanta Falcons Cheerleaders
2016-2017 NFL Atlanta Falcons Cheerleaders
Marissa Guzman
2015-2016 NBA Spurs Silver Dancers
2014-2015 NBA Spurs Silver Dancers
2013-2014 NBA Spurs Silver Dancers
2012-2013 NBA Spurs Silver Dancers
2012 WNBA Stars – Star Squad
2011-2012 AHL Rampage Ice Girls
2011 WNBA Stars – Star Squad
Angela Martinez
2015 MLS Houston Dynamo Girls
2014 AFL Talons Sky Dancers
2013 AFL Talons Sky Dancers
Rochelle Banuet
2014 AFL Talons Sky Dancers
2013 AFL Talons Sky Dancers
Jaclyn Villasenor
2014-2015 NBA Spurs Silver Dancers
2013 AFL Talons Sky Dancers
2012 AFL Talons Sky Dancers
Alondra Bailey
2013 AFL Talons Sky Dancers
Amanda Cantrell
2012 WNBA Stars – Star Squad
2011 WNBA Stars – Star Squad
2009-2010 AHL Rampage Ice Girls
2008-2009 AHL Rampage Ice Girls
Mandy Trevino
2012 WNBA Stars – Star Squad
2011 WNBA Stars – Star Squad
2011-2012 AHL Rampage Ice Girls
2010 WNBA Stars – Star Squad
Stacie Harris
2009 WNBA Stars – Star Squad
2008 WNBA Stars – Star Squad
2007-2008 AHL Rampage Ice Girls
2007 WNBA Stars – Star Squad
Nicole Pierce
2008 WNBA Stars – Star Squad
2007 WNBA Stars – Star Squad
Individuals Joining Warriors From NFL
Aleem Harris SS
Lee Folikai LB
Tyrell McCrea LB
Cynthia Trinidad
NFL Dallas Cowboys Cheerleader